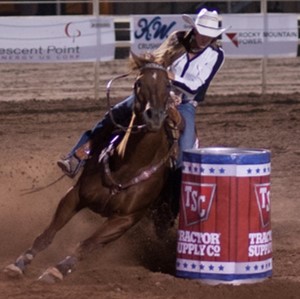 Barrel Racing evolved from the relay races in the old wild west shows. Introduced into rodeo as an exclusive event for women on horseback, our barrel racing is sanctioned by the Women's Professional Rodeo Association. The competition shows true teamwork between rider and horse.
Barrel racing uses electric timers and three barrels set in a clover-leaf pattern. They may enter the arena at a leisurely pace, but when they run between the timers it is full speed ahead. They can go around the left or right barrel first depending on what their horse likes best. They circle the second then third barrel and race back across the line stopping the clock. A hundredth of a second can determine who wins.
If the contestant breaks the pattern they are given a no time. A rider may touch a barrel, but a  5-second penalty is added to the contestant's time for any barrel that is knocked over.
2018 World Champion: Hailey Kinsel, Cotulla, TX
2018 DRR Champion: Meka Farr, 17.17 seconds
DRR Arena Record: Ann Scott, 16.81 seconds, 2014
This year's event is sponsored by: