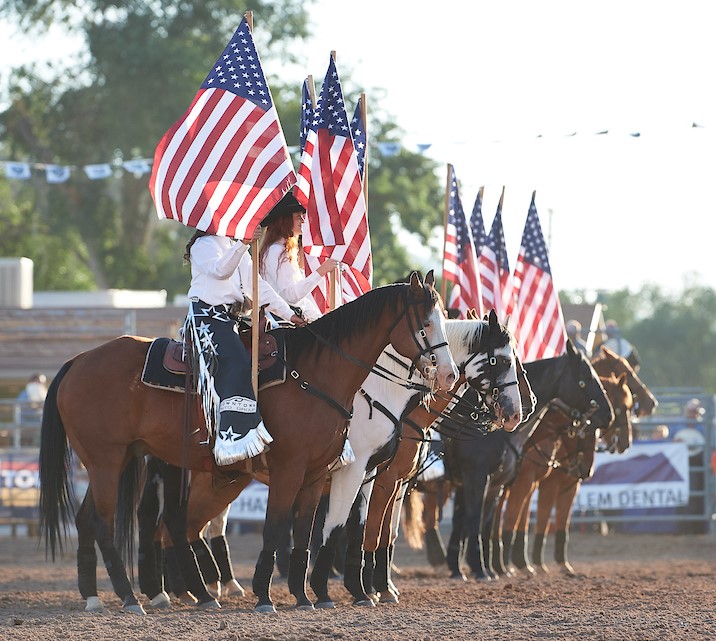 Want to be in and a part of our rodeo? The DRR Riders help bring the excitement to the opening ceremonies of the Greatest Show on Dirt! Each rider will carry a sponsor flag during the grand entry, and an American Flag during the National Anthem.
DRR Rider Tryouts will be will be held Saturday, April 17th at 10 am in Western Park's indoor arena. To participate, candidates must be ages 12 or older, be able to pack a flag, do a small pattern, know basic horsemanship skills, and be capable of controlling your horse one handed during basic maneuvers. We will be looking for smiling faces, great attitudes and the ability to work as a team. We are proud to have you become part of this great event. Fancy clothes and gear are not required. We are looking for 14 riders, with 12 to ride in performances, and 2 riders to serve as alternates.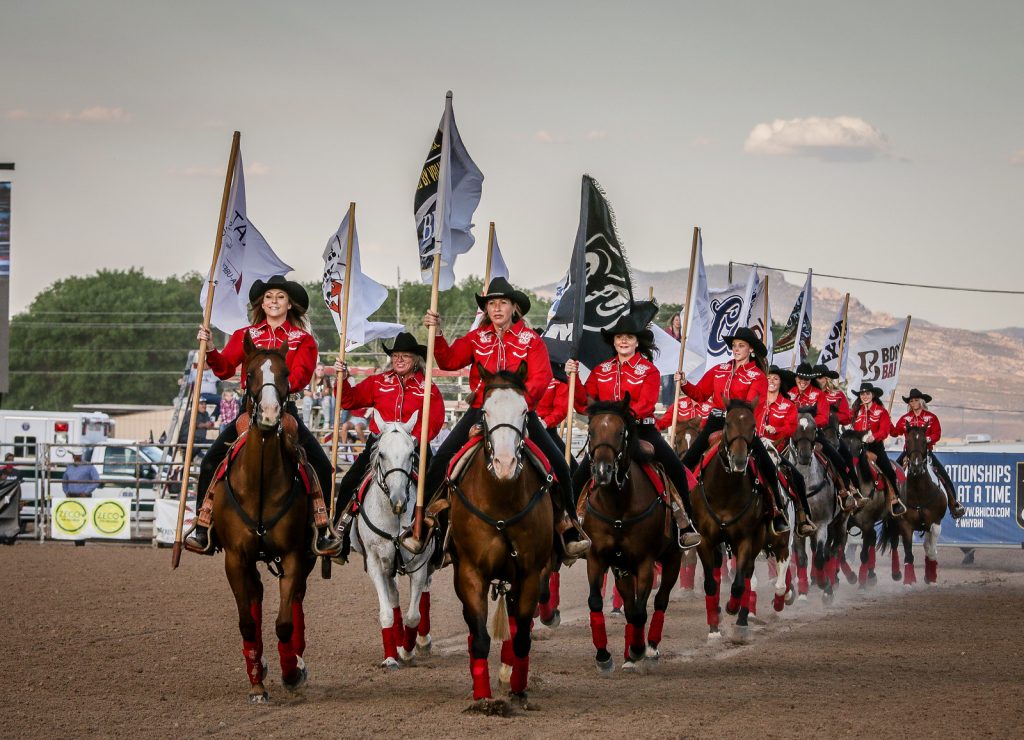 Practices are required for team members, and will be held every Monday at 6 pm at Western Park. The practices and required events for 2021 are as follows:
Saturday, April 17th (tryouts)
Monday, April 19th
Monday, April 26th
Monday, May 3rd
Monday, May 10th
Monday, May 17th
Monday, May 24th
Monday, May 31st
Monday, June 7th
Monday, June 14th
Monday, June 21st
Monday, June 28th
Saturday, July 3rd – Vernal Independence Day Parade
Monday, July 5th – Arena Setup & Dress Rehearsal
Thursday, July 8th – Rodeo – Tough Enough To Wear Pink Night
Friday, July 9th – Rodeo – Western Legacy Night
Saturday, July 10th – Rodeo – Patriot Night
For more information, please contact Tonia Steffey at 435-724-2468.
The Dinosaur Roundup Rodeo Riders are sponsored by: