Due to the high demand for Mutton Bustin', a sheep chase has been created to give all cowboys and cowgirls between the ages of 4 to 7 a chance to be a part of the Dinosaur Roundup Rodeo. All children that are not selected for the Mutton Bustin' can participate in the Sheep Chase on Thursday Night.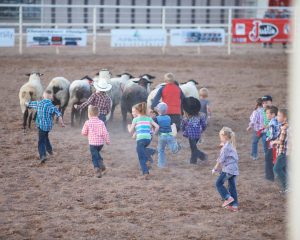 This is a fun event for kids to win prizes! Kids line up at one edge of the arena, while a herd of sheep are released at the other end of the arena. These sheep have various ribbons attached to their wool. Once the ribbon is caught, the ribbon be can redeemed for prizes such as cash, gift cards, and many other prizes!
To register for the sheep chase, please download the Mutton Bustin' Sign Up Form and deliver to the Vernal Chamber by July 8th. 
The Sheep Chase is sponsored by: