Powder River Rodeo, LLC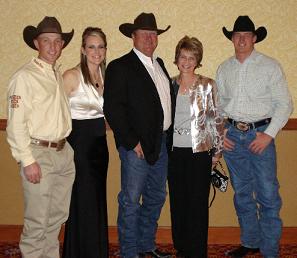 Hank and Lori Franzen with a partner from Buffalo, WY started the Wyoming based Powder River Rodeo Company in February 1986. Their interests were to be sole owners and they bought the partner out a year later and became the owners of Powder River Rodeo Productions. When they first started the company they bought 40 horses and 20 bulls from an amateur stock contractor in Kalispell, MT. They produced eleven amateur rodeos the first year as stock contractors. Although, Hank was a PRCA member contestant for the last ten years when he and his wife became sole owners of Powder River Rodeo they immediately applied for their PRCA Stock Contractors Card. They received their PRCA Stock Contractors Card in March 1987. The fall of 1988 they were given their first opportunity to nominate livestock to the National Finals Rodeo in Las Vegas, NV they had three animals selected. In the spring of 1989 they purchased a magnificent bucking horse named Khadafy Skoal. From Hank's experience in the world of rodeo he knew that with the proper care and time that Khadafy would be the champion he is today. Khadafy Skoal has been named the 1990, 1995, 1996 PRCA World Champion, 1997 and 2000 Reserve Champion and 1999 3rd place PRCA Bareback Horse of the Year. Top NFR Bareback in 1994, 1996, 1999, Reserve Champion in 1995 and 3rd place NFR Bareback in 1997 and 1998. Dodge National Circuit Finals Top Bareback five times and Reserve DNCFR Top Bareback three times. Mountain States Circuit Champion Bareback ten times and Reserve Champion twice. In 1991, Gold Coast Skoal was voted as the Reserve Champion Bareback Horse of the Year and Best Bareback at the DNCFR.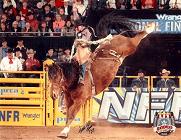 In 2003, Miss Congeniality a ranch raised horse was named the 3rd best Saddle Bronc of the Year and 3rd place NFR Top Saddle Bronc. Miss Congeniality, in 2004 and 2008 was awarded the Reserve Champion Saddle Bronc of the Year and the 2004 NFR Reserve Champion Saddle Bronc. Miss Congeniality was named the PRCA Saddle Bronc of the Year in 2005 and 2007. In the last 23 years the Franzens have won over 145 top stock awards on their livestock including National, Dodge National Circuit and Mountain States Circuit awards.
Hank was honored with being selected as one of the five nominees for the Top Stock Contractor of the Year in 1998, 2003 and for 2005. The PRCA contestants, committees and contract personnel vote and nominate for their favorite Stock Contractor for this honor, out of 70 American and Canadian PRCA Stock Contractors. In the Mountain State Circuit Hank has been awarded the top Stock Contractor of the Year from 2003-2008. Hank is also the Stock Contractor Representative for the Dodge National Circuit Finals Rodeo.
Since their first National Finals Rodeo they have consecutively had livestock selected to the NFR in Las Vegas, NV. Their company has grown from eleven rodeos to 90 performances a year in ten different states.