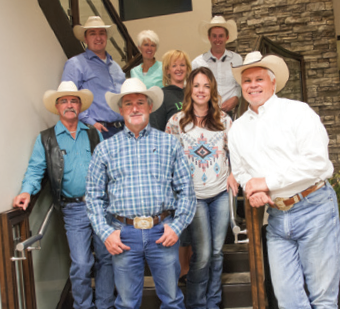 Big Welcome From The Rodeo Committee
Rodeo has been a western tradition and a part of our community for over 90 years. Although information is a little sketchy before 1932, there are records going back to 1924 when the rodeo was called the Golden West Days. In 1932 the rodeo was known as the Blue Mountain Rodeo. About 50 riders participated in the event and a 50-piece band gave a concert daily. A year later the name was changed to the Uintah Basin Rodeo.
In 1935, the event came to be known as the Vernal Rodeo with airplane stunts, wild bronc riding, roping and horse races daily. The rodeo also started selecting royalty. Enid Johnson of Vernal was the queen and she borrowed a black cowboy hat and a pair of chaps to ride in the rodeo parade. The first rodeo under the lights was in 1948.
Over the years, the rodeo kept getting renamed — first to the Vernal Professional Rodeo and later the Vernal Championship Rodeo. Finally in 1958, the rodeo was named the Dinosaur Roundup Rodeo and has been known by that name since.
As a rodeo committee, we strive to continue this tradition by putting on one of the top rodeos in the country. This year over 500 contestants from around the world will participate. Spectators will see some of the best rodeo competitors competing on stock provided by Powder River Rodeo Productions. They will also see the very funny antics of the barrel man and clowns along with some great home town events.
Thursday night is known as "Pink Night" in support of the fight against cancer. Everyone is encouraged to wear pink. The Grand Entry will pay tribute to the great efforts our community puts forth in fighting this disease.
Friday night will be our tribute to legends in the community with special recognition being paid to Dr. Terry Buxton, our Legendary Cowboy. He will be honored for the work done in preserving the heritage in rodeo. Also those who have been successful in their high school rodeo careers will be highlighted.
Saturday we honor the men and women whose sacrifice has kept this great county free. A special flag ceremony with 12 riders on horseback will salute those from past and present.
The committee would like to thank the volunteers, community leaders, sponsors, and fans for their support of this year's rodeo. It's truly a community event and not one you'll want to miss!
2016 DINOSAUR ROUNDUP RODEO COMMITTEE