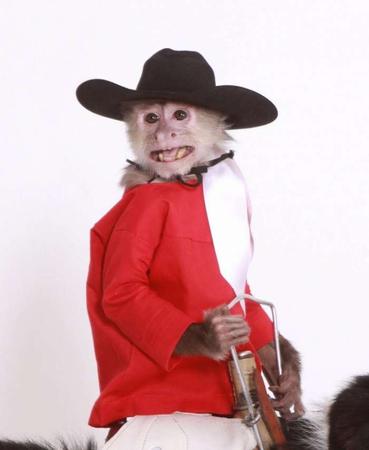 Whiplash The Cowboy Monkey is truly a fan favorite. He is the world's smallest cowboy, 3-Time PRCA Pro Rodeo Entertainer of the Year, and an international star who has been putting smiles on faces for years. Whiplash is a Capuchin Monkey who has been riding since he was two years old. He travels the country herding wild Barbados sheep at rodeos and other events. Whiplash, dressed in his cowboy hat, silk scarf, chaps and Justin Boots, never misses a chance to show his skills and cowboy spirit as he rides his trusty Border Collie mount, Boogie.
Whiplash has entertained crowds at rodeos, ball games and events all across North America and Europe. He has starred in a series of television advertisements for the fast food chain Taco Johns. He has appeared on numerous commercials, ESPN, Good Morning America and The Today Show.
Long-time PRCA card holder, Kenny Petet of Stephenville, Texas, travels with Whiplash the Cowboy Monkey. "He is really more like part of the family, with his big personality and diva-like charm." said Petet
"He loves his job," Petet said. "He gets wound up when it's time to go," he said. "He knows the rhythm. When I'm changing into my dress clothes, he knows the rodeo music, and he can always hear it, because we park close to the arena. He'll crawl up on my lap, and put his arms out so I can put his shirt on."
As part of the act, Petet has designed and built a rat rod to make his entrance in and exit out of the arena. A self-described hot rod guy, he built most of it from a variety of parts: the cab from a 1946 Chevy, the grill from an International tractor, the headlights from a 1920s model Cadillac, the wheels from a 1929 Model A. The engine, a Chevy 350 Hot Rod, is modern; everything else is hand built and hand channeled. Even the cup holder is a Prince Albert tobacco can! People love it. "It creates a stir," he said. "If I don't feel like unhooking the trailer (when he arrives at a rodeo), I drive it to the convenience store."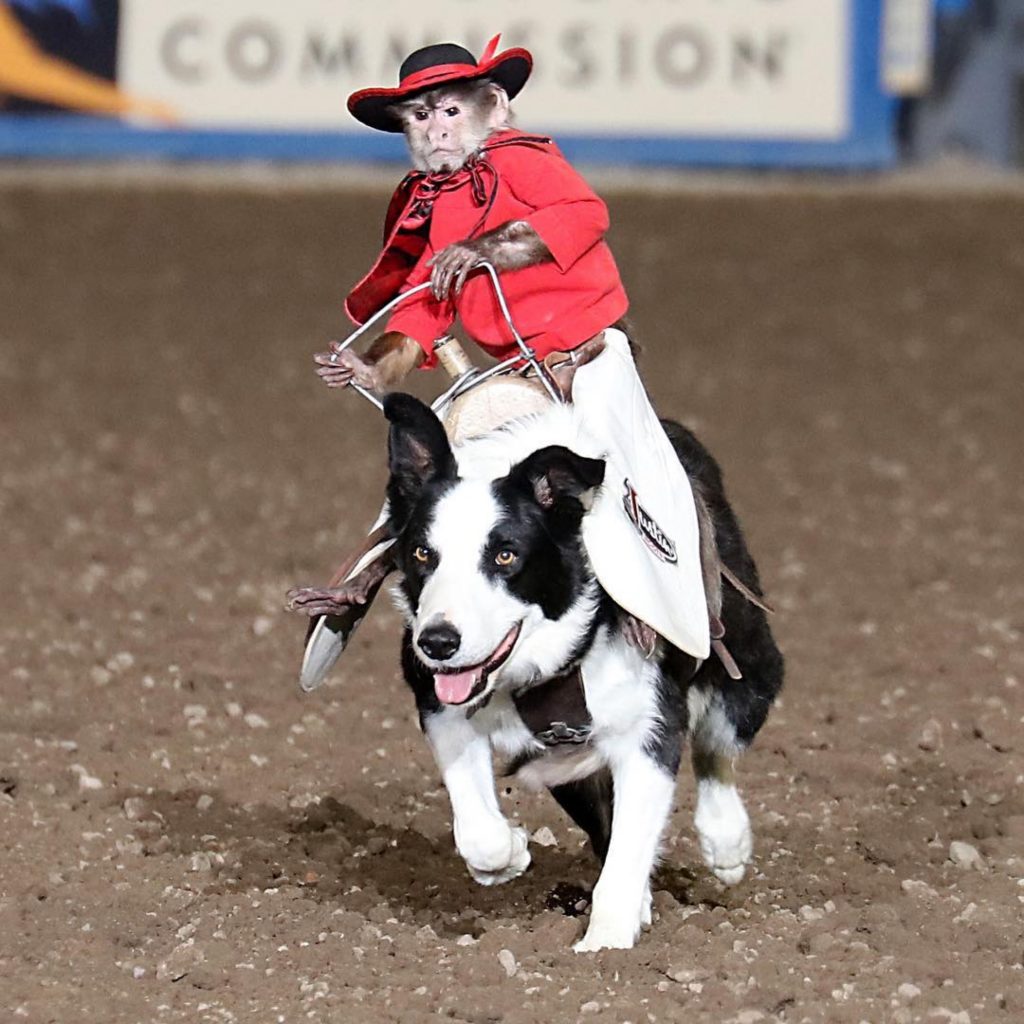 When he's not on the rodeo road, Whiplash lives with Petet and his wife Nicole. He's intelligent, Petet said. "You have to toddler-proof the house. If he can get into something, he will." He eats human food. "If it's good for you, it's good for him," he said. Petet feeds him grilled chicken, fish and grapes, among other things. Whiplash, like most humans, loves junk food like onion rings, French fries and cake, but Petet limits his intake. Petet notes that capuchin monkeys live up to 35 years in the world but 45 years with quality veterinarian care. Whiplash is 25 years old, and lives close to the nation's best primate veterinarian, who helps keep him in top health.
Whiplash's motto is "There's one Will Rogers, there's one John Wayne, and there's one Whiplash."
Whiplash has his own web site www.whiplashthecowboymonkey.com and Facebook page, Whiplash The Cowboy Monkey. He can be followed on Instagram @whiplashthecowboymonkey and Twitter @whiplashmonkey. He has had over 7 million views on You Tube.
Whiplash The Cowboy Monkey will entertain fans all three nights at the Greatest Show on Dirt, thanks to our sponsor: