By JOLEE JORDAN, Special to ProRodeo Sports News
It's about the same distance from Vernal, Utah, to Milford, Utah, as it is from Vernal to Sheridan, Wyo., but Jesse Wright didn't care.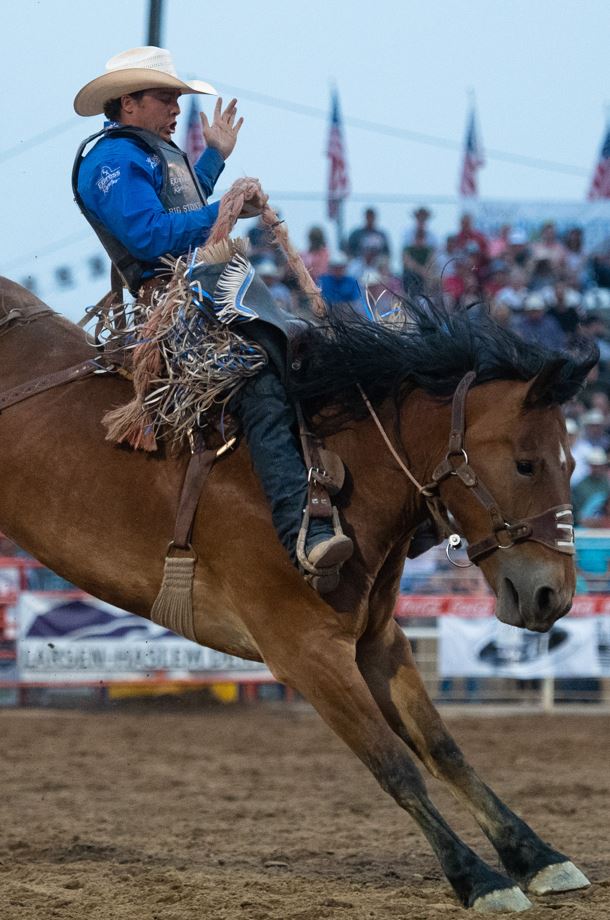 After taking home his third championship from the Dinosaur Roundup Rodeo on July 10 in Vernal, Wright pointed the rig in the opposite direction of the next rodeo – Sheridan WYO Rodeo – on July 14 in order to spend a few days at home in Milford before backtracking to Sheridan.
It's one benefit of living close to all the lucrative rodeos in the Wilderness Circuit in the summertime, the proximity to home base and a chance to sleep in your own bed for a night or two.
"It's about five and a half hours home (from Vernal)," said Wright, who enjoys the time at home with his kids. "We could have been in Sheridan in the same amount of time and just hung out around there for two days until we were up."
"But it was worth it to be home. It's been so hot, we spent most of it either at the lake or in the swimming pool."
The weather isn't the only thing heating up – the Wright family has been on a tear, and that included Jesse's 91.5-point trip aboard Powder River Rodeo's Bet the Ranch. The win netted Wright $3,463 and valuable ProRodeo Tour points.

"It's been going good for us," Wright said, noting if it wasn't him winning, it was younger brother Spencer or nephews Rusty, Ryder or Stetson. "It's been a happy truck for sure."

Bet the Ranch has played a good part in the Wright's recent success. The horse also carried Spencer to a win in Delta, Utah, with 88 points.

"My little brother won Delta on that horse, so I was stoked when I saw I had
him drawn," Wright said.
"He's a younger horse that's just getting started."

"He bucks hard, so I knew I needed to hustle," Wright continued of the fabulous trip in front of a raucous Saturday-night crowd. "I just focused on a good, strong mark-out. When he broke out there, I tried to stay back and keep reaching as high as I could in the neck. Every jump I felt like I was on the edge of my saddle. That's what makes that horse so awesome, he wants to buck so hard and he loves bucking. He's cool as heck."
Wright's third title in Vernal – and second consecutive – bumped him up to 41st in the PRCA | RAM World Standings, despite riding in fewer than two dozen rodeos in 2021.
The ProRodeo Tour points also moved him in range of the Top 24 in the Tour Standings, giving the 2012 PRCA World Champion Saddle Bronc Rider a chance at qualifying for the ProRodeo Tour Finale to be held on the final weekend of the regular season in Salinas, Calif.

That could be a game-changer for the cowboy who got a late start on the year.
"I started with the spring rodeos in California and plan to keep rodeoing all the way up to the end of the season," Wright said.
He missed the first half of 2021 after undergoing right knee surgery in August 2020 after hyperextending his knee and tearing the meniscus in a buck-off.
"It took longer than I thought (to return to competition)," said Wright, 32. The eight-time Wrangler National Finals Rodeo qualifier seemed in position to make a late run at another Finals berth but in the end missed the rest of the 2020 season. "It was an aggravating pain … I could walk but it didn't feel good.
"I'm glad I waited and took the extra time, as much as it was tough to sit
home. It feels really good now."
Wright and company will stay busy for the rest of the season but are still planning to sneak home whenever possible.
"The NFR is still the goal, but I'm just planning to go try to ride each one the
best I can and let it fall out however it does," Wright said.
Full results:
All-around cowboy: Stetson Wright, $1,962, saddle bronc riding and bull riding.
Bareback riding: 1. Tilden Hooper, 88 points on Powder River Rodeo's 99 Problems, $3,235; 2. Clayton Biglow, 87.5, $2,480; 3. Cooper Bennett, 84.5, $1,833; 4. (tie) Seth Hardwick and Wyatt Denny, 84, $970 each; 6. Cole Reiner, 83.5, $539; 7. (tie) Bodee Lammers and Logan Patterson, 82, $377 each.
Steer wrestling: 1. Shane Frey, 3.6 seconds, $3,483; 2. (tie) Tyler Waguespack and Tucker Allen, 3.8, $2,933 each; 4. (tie) Will Lummus, Jesse Brown and Ringo Robinson, 3.9, $2,016 each; 7. (tie) Blake Knowles, Riley Hamilton, Jace Melvin and Tyke Kipp, 4.1, $733 each.Team roping: 1. (tie) Clay Smith/Jade Corkill and Dustin Egusquiza/Travis Graves, 4.5 seconds, $4,420 each; 3. Brenten Hall/Chase Tryan, 4.6, $3,684; 4. (tie) Tyler Wade/Trey Yates and Pedro Egurrola/JC Flake, 4.8, $2,947 each; 6. Tate Kirchenschlager/Cole Davison, 4.9, $2,210; 7. Clay Tryan/Jake Long, 5.0, $1,719; 8. Spencer Mitchell/Chris Young Young, 5.1, $1,228; 9. Levi Simpson/Tyler Worley, 5.3, $737; 10. (tie) Jaguar Terrill/Sid Sporer and Aaron Tsinigine/Kyle Lockett, 5.5, $123 each.
Saddle bronc riding: 1. Jesse Wright, 91.5 points on Powder River Rodeo's Bet The Ranch, $3,463; 2. Hardy Braden, 89, $2,655; 3. Stetson Dell Wright, 88, $1,962; 4. Kobyn Williams, 85.5, $1,270; 5. (tie) Wyatt Hageman and Cody DeMoss, 85, $693 each; 7. Rusty Wright, 84.5, $462; 8. Creighton Curley, 84, $346.
Tie-down roping: 1. Tuf Case Cooper, 7.5 seconds, $4,947; 2. Ryley Fontenot, 8.0, $4,426; 3. Blake Chauvin, 8.4, $3,906; 4. Kincade Henry, 8.5, $3,385; 5. Hudson Wallace, 8.8, $2,864; 6. (tie) Zack Jongbloed, John Douch and Michael Otero, 8.9, $1,823 each; 9. Ryan Thibodeaux, 9.0, $781; 10. (tie) Jase Staudt and Tyler Milligan, 9.2, $130 each.
Breakaway roping: 1. (tie) Shelli Scrivner and Loni Lester, 2.40 seconds, $2,638 each; 3. Jordan Minor, 2.50, $1,996; 4. (tie) Hannah Lee, Cassie Bahe Latham and JJ Hampton, 2.60, $1,378 each; 7. (tie) Bailey Gubert, Kara Burns and Abby Medlin, 2.70, $594 each; 10. Madison Outhier, 2.80, $428; 11. (tie) Cadee Williams, Josie Jensen and Shelby Boisjoli, 2.90, $214 each.
Barrel racing: 1. Emily Miller-Beisel, 17.08 seconds, $4,142; 2. Hailey Kinsel, 17.09, $3,313; 3. Jodee Miller, 17.10, $2,692; 4. Shelley Morgan, 17.15, $2,071; 5. Jessi Fish, 17.25, $1,657; 6. Christine Laughlin, 17.32, $1,242; 7. Amanda Welsh, 17.33, $1,035; 8. Stevi Hillman, 17.35, $932; 9. Kim Schulze, 17.42, $828; 10. (tie) Ericka Nelson and Terri Wood Gates, 17.43, $673 each; 12. (tie) Loni Lester and Kelley Carrington, 17.44, $466 each; 14. Nellie Miller, 17.48, $311; 15. Ilyssa Riley, 17.49, $207.
Bull riding: * 1. (tie) Parker McCown, on Powder River Rodeo's Notorious Nonsense, and Sage Kimzey, on Powder River Rodeo's Audacious, 90.5 points, $3,038 each; 3. Clayton Sellars, 87, $1,966; 4. Creek Young, 85.5, $1,289; 5. Ky Hamilton, 84.5, $838; 6. (tie) Trey Kimzey and Hayes Weight, 82, $556 each; no other qualified rides. *(all totals include ground money).
Total payoff: $165,556. Stock contractor: Powder River Rodeo. Sub-contractor: Outlawbuckers Rodeo. Rodeo secretary: Eva Chadwick. Officials: Harry Rose Jr, Tim Engelhart and Wade Woolstenhulme. Timers: Tammy Braden and Sam Arnold. Announcer: Roger Mooney. Specialty act: J.J. Harrison. Bullfighters: Aaron Hargo and Luke Kraut. Clown/barrelman: J.J. Harrison. Flankmen: Matt Cook, John Franzen and Jonathan Kmita. Chute boss: John Franzen. Pickup men: Clint Humble and Jay Shaw. Photographers: Brooks Benjamin and Lexi Christopher. Music director: Jill Franzen Loden.