While it is the bull fighters' job to protect the cowboys, the barrelman's primary job is to entertain the crowd. It's a job that John Harrison takes very seriously . . . for a clown.
John will go down as one of the most decorated and accomplished barrelman and rodeo clowns in the sport. At the Wrangler National Finals Rodeo in 2022, he was honored with not one, not two, but three year-end awards: John was named the PRCA Comeday Act of the Year, the PRCA Coors Man in the Can, and the PRCA Clown/Barrelman of the Year.
John Harrison and team are affectionately known as "The Clown Family" among rodeo fans and professionals. You rarely see John at a rodeo with out his tribe. He and his wife, Carla have had 4 children. Addy, their oldest is embarking on a fun journey of her own. She interviews contestants & personnel and then asks them questions kids want to know about. ache, their son, is often dressed just like John entertaining and doing flips during the mutton busting. The father – son duo have opened the WNFR 3 times. Next in line would be Billie, a daughter that is an angel in Heaven now. Capping off the crew is the youngest girl, Charlee, who is the self proclaimed "leader" of everything, but especially the Clown Family!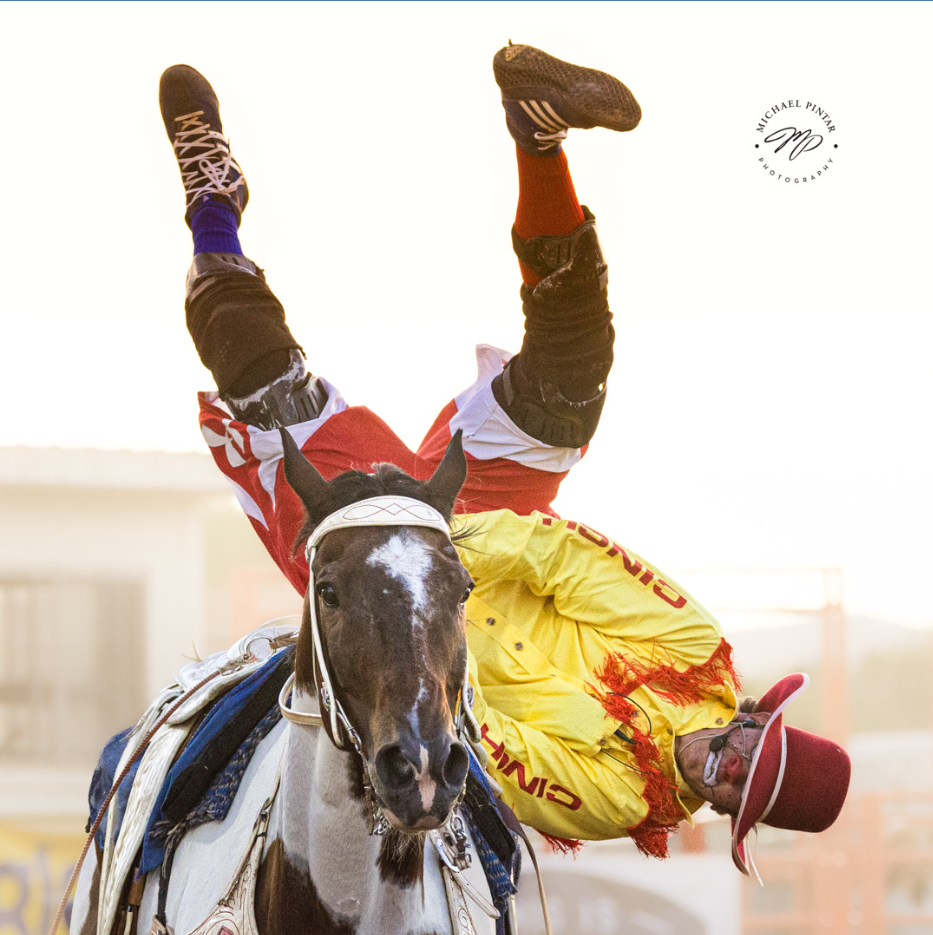 John comes by the family aspect honestly; while he is a noted rodeo clown and barrelman, his late grandfather was rodeo legend, Freckles Brown. (Freckles rode the "unrideable" bull Tornado, the subject of Western Music songs, and was a World Champion Bull Rider in 1962)  John was around rodeo and rodeo people his whole life. He became a member of the Professional Rodeo Cowboys Association (PRCA) in 1999, as a trick and roman rider, and trick roper. He later diversified and added barrelman to his PRCA card, and the rest is history.
John has worked rodeos from coast to coast and has made 11 appearances at the prestigious Wrangler National Finals Rodeo, three times as a specialty act performer and 8 times as a barrelman. In 2012, 2014-15, 2020-22, John picked up the coveted award of Comedy Act of the Year.  Capping his achievements, he brought home the gold buckle, that represents the work he does in the barrel, of Coors Man in the Can 6 times. For the First time in his career in 2022, he was warded Clown of the Year! He feels blessed to be doing what he loves and with those he loves at his side.  
What makes John a good rodeo clown isn't that scripted humor or set jokes most clowns use.  It's the off the cuff stuff and spur of the moment quick wit that are his best attributes. John Harrison will entertain the fans all three nights at the Greatest Show on Dirt, thanks to our sponsors: