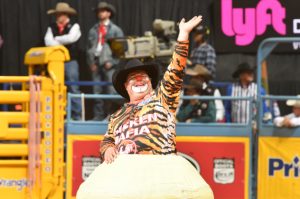 While it is the bull fighters' job to protect the cowboys, it's the barrel man's primary job to entertain the crowd. It's a job that Cody Sosebee takes very seriously — for a clown. "I spend two to three hours everyday day on the Internet keeping up with current events and gossip columns. I think people would be surprised at how much preparation I do to be able to relate to each individual in the stands. It's not about just going out there and acting like an idiot for a few hours. I have to go in there with as many bullets in my arsenal as possible so that I can connect with whatever crowd is there that night, no matter if they are nine or ninety," explained Sosebee.
During the winter his preparation includes going to dance class at his local gym to learn the latest dance moves and chat with the girls in class so he can stay hip with "cool" moves and lingo. His secondary occupation of driving a school bus and substitute teaching provides endless opportunities to gather material. Sosebee says that everything in life, he sees with humor. "It can be something as normal as a lady in the grocery store pushing her cart, and my mind sees that and is already trying to turn it into something funny before I even realize it. I try to see the humor in life in everything I do and then somehow put a western-type spin on it," says Sosebee.
This native Arkansas rancher could have taken several routes in his life. He had the talent and opportunity to play collegiate football and professional martial arts. He was also a successful bareback rider winning the International Professional Rodeo Association (IPRA) Rookie of the Year title in 1991 and the IPRA Word Championship in bareback riding in 1993. While Sosebee was always a boisterous prankster of sorts, it was just by chance that the career of a rodeo entertainer fell into his lap at a three-night rodeo in 1997. Now what was once fun'n around has led into a lucrative career . Cody has been nominated over 13 times for PRCA Clown of the Year and PRCA Comedy Act of the Year. In 2017, Cody Sosebee was selected as the barrelman at the Wrangler National Finals Rodeo and in 2018, was awarded as the PRCA Comedy Act of the Year.
Sosebee will entertain the fans all four nights at the Dinosaur Roundup Rodeo, thanks to our sponsor: