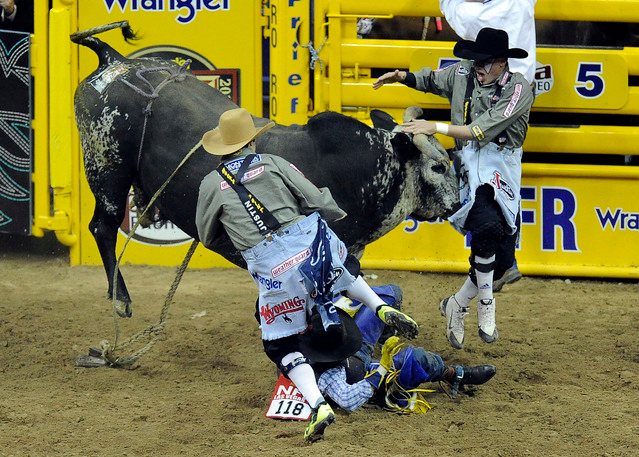 Bull riding is one of the most dangerous sports on earth. In a blink of an eye, a bull can charge at a defenseless rider in a split second after the ride is over. However, the bull riders are never alone in the arena; they have two fearless life savers, known as bullfighters, waiting in the wings who are ready to dive into immediate danger to protect the bull riders.  Sometimes this means the bullfighters even have to get in the way of a bull's dangerous horns or hooves by any means necessary. With the best bucking bulls and bull riders in the world at Vernal's Dinosaur Roundup Rodeo, we need the best bullfighters in the world. For the past 13 years, only two men have been recognized as the PRCA Bullfighter of the year: Cody Webster and Dusty Tuckness.
Cody Webster
Coming from a family of bull riders and barrel racers, Cody grew up in the rodeo community. As a young child, he would study the movements of the bullfighters and could be found practicing on a dummy in the front yard or the family's mean billy goat. Each year, Cody dressed up as a rodeo clown for Halloween. He never doubted that bullfighting was his calling.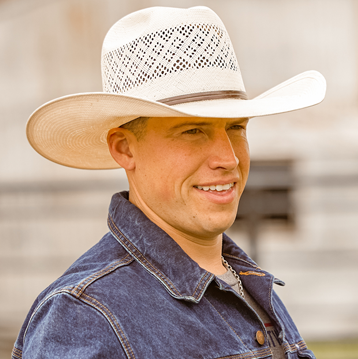 At only ten years of age, Cody arrived at the doorstep of Professional Bull Riders (PBR) legend Frank Newsom, eager to learn how to bullfight. Frank trained Cody for years, sharing lessons of the cowboy way inside and outside of the arena. The mentorship led to Cody becoming the youngest bullfighter to earn the esteemed role of protecting cowboys at the National Finals Rodeo (NFR), and has fought bulls there for ten consecutive years. He has also protected bull riders at the PBR World Finals nine times.
Today, Cody honors the traditions of the bullfighters who paved the way for him by painting his face and wearing the baggies. He also understands the weight of his profession. It's life or death, which requires constant mental and physical fortitude. His success can be attributed to his fearless demeanor when standing up against 1,400-2,200 pound animals.
Cody and his wife Ashley live the Western lifestyle daily while managing a successful cattle operation. There they breed commercial cattle for beef production and fighting cattle for Cody's Bull School. This school is his way of giving back to the industry by bringing young bullfighters along and teaching his techniques that led him to earn PRCA Bullfighter of the Year in 2020, 2021, and 2022.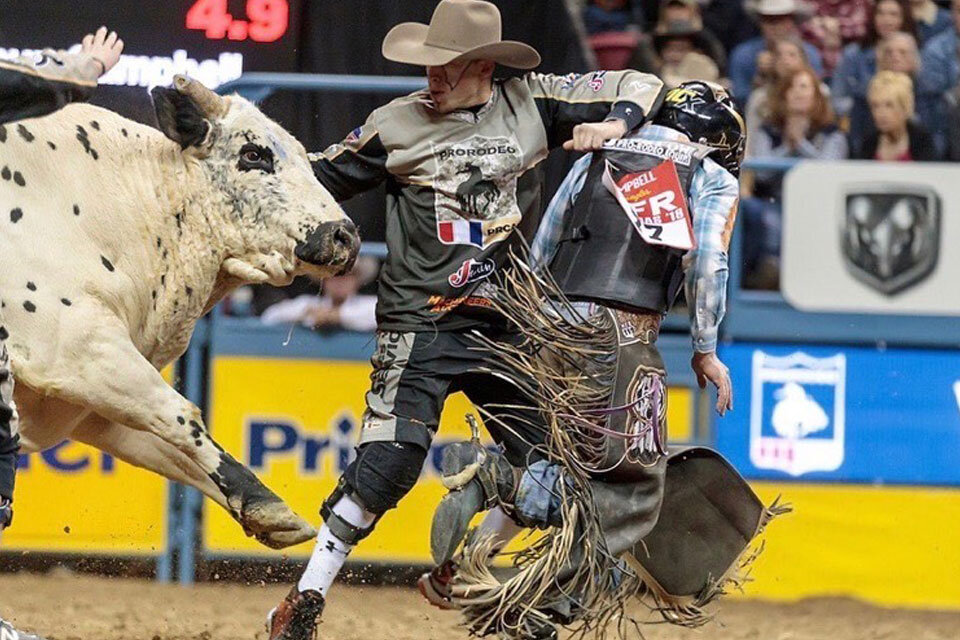 Cody appreciates the individual competition yet collective camaraderie one can only find in the rodeo arena. His unique commitment to the well-being of the riders and bulls alike displays how he maintains standards in the sport that would make the earliest cowboys proud.
Dusty Tuckness
Referred to as the G.O.A.T. (greatest of all time), Dusty Tuckness is the most decorated bullfigther in the history of ProRodeo, having received the PRCA Bullfighter of the Year Award 10 times in his career and protecting cowboys at the National Finals Rodeo 14 consecutive years.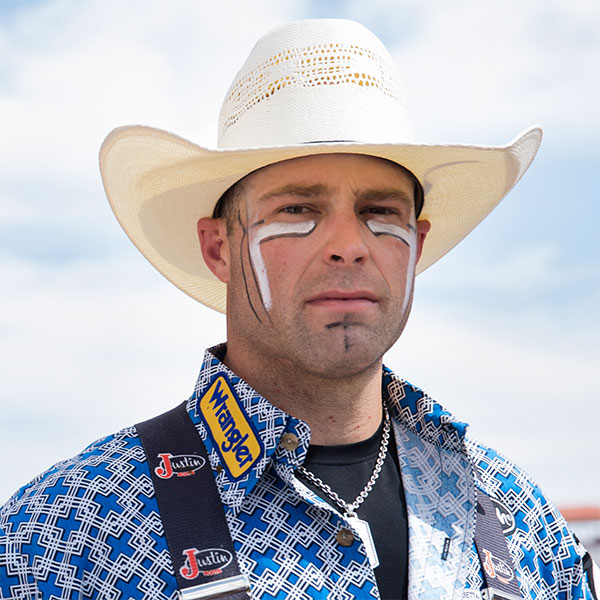 Dusty Tuckness demonstrates the Standard of the West by understanding the value of putting in what you want to get out of a given situation. This ten-time PRCA Bullfighter of the Year brings an incomparable level of preparation outside of the arena to fight bulls and protect cowboys.
Dusty is a family man through and through who calls his parents the lights of his life. His mother has always been his number one fan — from Little League to rodeo — and his father has been a constant mentor and sparked his initial interest in bullfighting.
Dusty grew up in the School of Hard Knocks, learning how to be a better bullfighter and man from the ups and downs life threw his way. He spent his childhood watching guys fight bulls and slowly inched his way into the arena to begin fighting them himself. In high school, he selected to pursue a life of bullfighting when faced with the choice between it and a football scholarship.
Becoming a skilled cowboy does not happen overnight. It takes an unrelenting desire to improve daily. For Dusty, that looks like studying hours of tape and learning every movement a bull can take. It looks like following an expert CrossFit program to keep himself in top athletic form. And it looks like dedicated quiet time as Dusty's faith is central to his determination to press on amidst struggles.
When Dusty is on the arena floor, everything moves in slow motion because he's mentally, physically, and spiritually prepared. When that bull leaps out of the chute, he notices each feature of that animal and can predict its next movement. His senses work together as he remains laser-focused on the bull and bull rider while keeping an expansive peripheral view of all else inside the arena.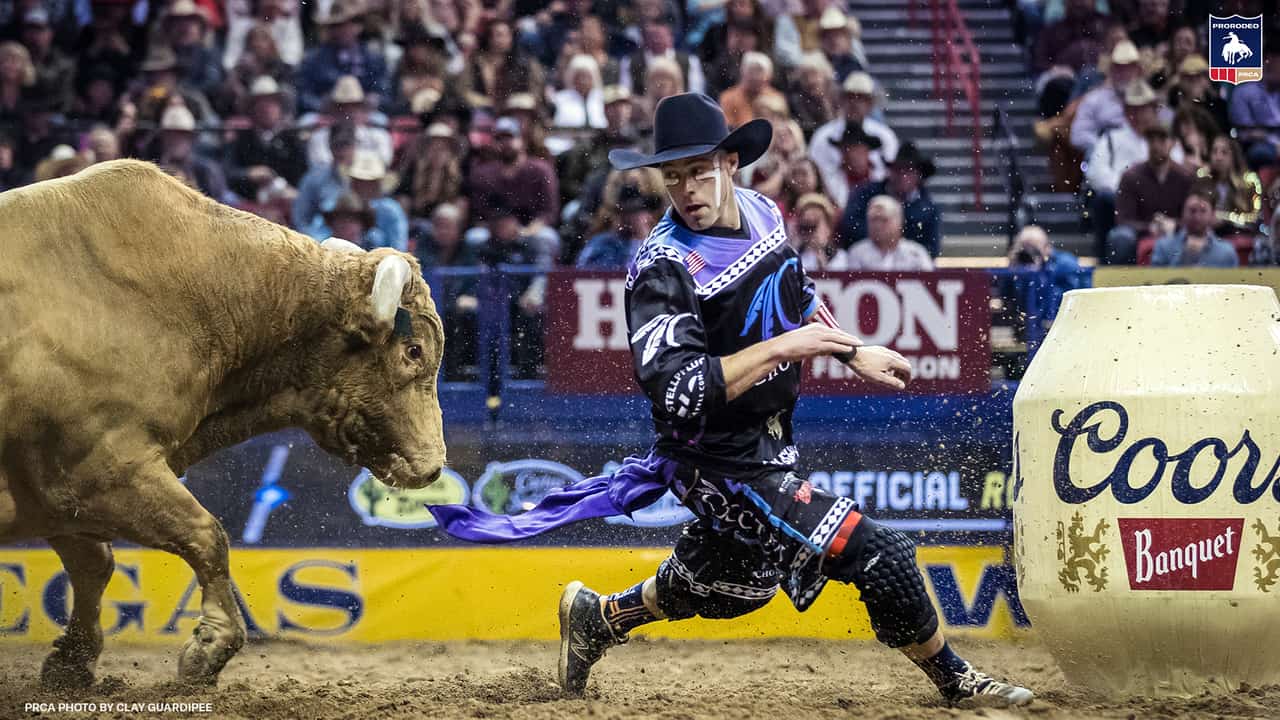 Dusty has bonded with the community built around bullfighting because they are a like-minded group who share the same dreams, vision, and goals. In full-circle fashion, he remembers growing up collecting rodeo cards and getting cowboys to sign them. He fondly looks back on those days as he is now close friends with many of the men he admired growing up. Dusty is an example of a cowboy who continually puts his best foot forward and lives with strong convictions.
The bullfighters and the Save of the Night are sponsored by: