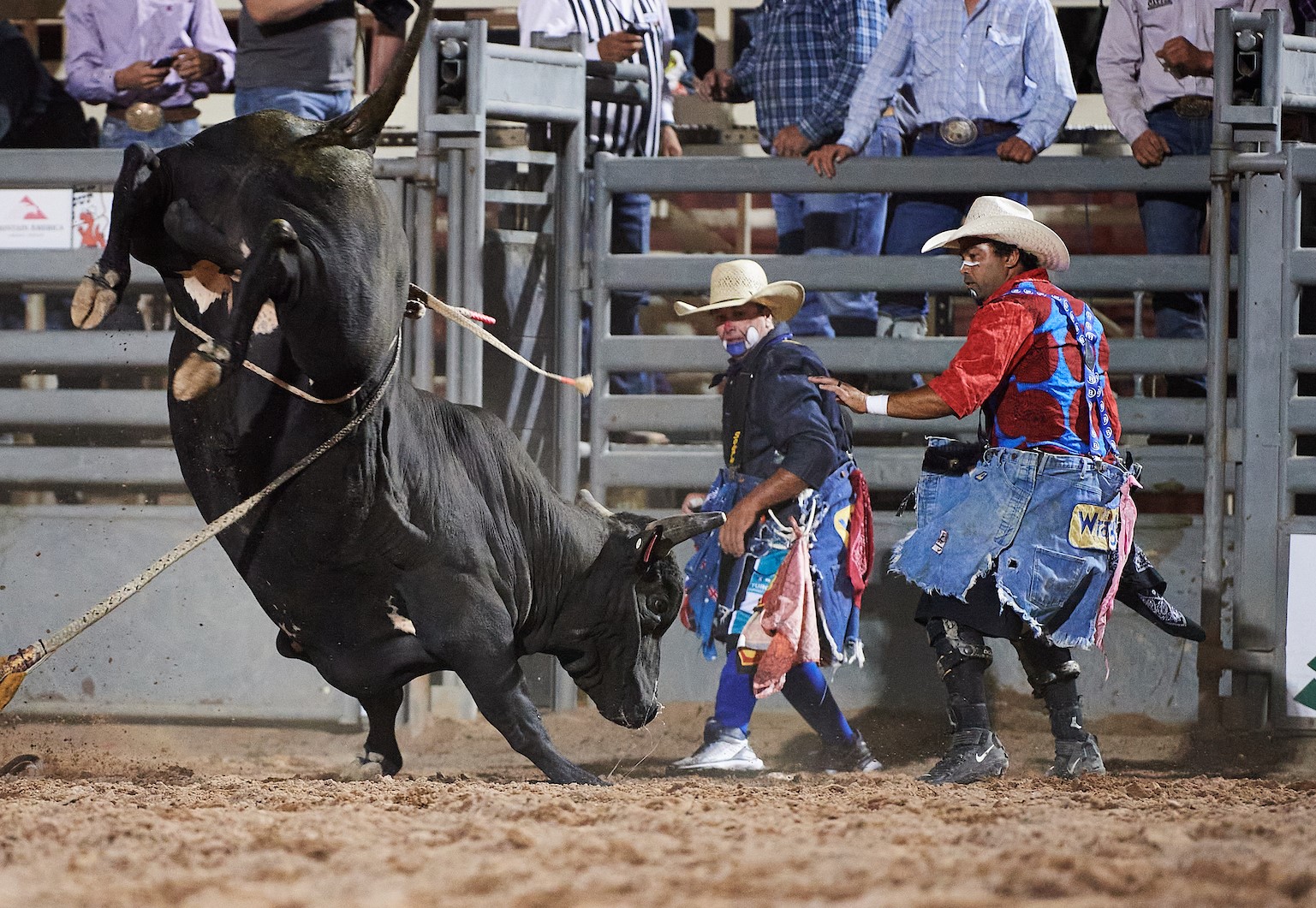 Bull riding is one of the most dangerous sports on earth. In a blink of an eye, a bull can charge at a defenseless rider in a split second after the ride is over. However, the bull riders are never alone in the arena; they have two fearless life savers, known as bullfighters, waiting in the wings who are ready to dive into immediate danger to protect the bull riders.  Sometimes this means the bullfighters even have to get in the way of a bull's dangerous horns or hooves by any means necessary. At the Dinosaur Roundup Rodeo, we are privileged to have two of the best protection bullfighters keeping our bull riders safe: Luke Kraut and Aaron Hargo.
Luke Kraut, PRCA Bullfighter
Luke Kraut migrated to America from a ranch in Australia in 1995. He became self-employed as a farrier in the Phoenix, Ariz. area.
Kraut soon found his talents as a bull rider. He's held memberships with the International Professional Rodeo Association, the Professional Rodeo Cowboys Association and the Professional Bull Riders as a bull rider. He produced some bull riding events, a bull riding school and entered more than 3,000 rodeos from California to Florida.
"But my passion is to provide the highest quality of cowboy protection," he said. "I have taught my bull fighting skills along side some of the best bull riders around such as Cody Custer, Gary Leffew, Cody Hart, Beau Lindley and Lyle Sankey. I have fought bulls all over the Southwestern United States and in Australia, everything from jackpot bull ridings and amateur rodeos to PRCA and IPRA rodeos and even some PBR events."
Kraut and his wife, Gina, and their three boys Lane, Cauy and Boyce, have acquired bucking bulls and started a breeding program. They have subcontracted for several contractors in the GCPRA, IPRA, PBR and other rodeos and bull ridings throughout the southwest.
"Rodeo is not only a tradition, but also a lifestyle we hope to pass down to our children," Kraut said.
Aaron Hargo, PRCA Bullfighter
Aaron Hargo makes his home in the Sierra Nevada foothills of Northern California. He grew up going to rodeos with his family since he was a small child and thinks of rodeo as his extended family. With an athletic background, Aaron participated in many sports growing up, playing point guard on his high school's varsity basketball team. After high school, Aaron attended junior college for a couple of years trying to decide which direction to take his career.
Aaron decided to go back to his early roots and try his hand in the rodeo arena and he set out to learn to fight bulls. He quickly learned he had both the skill and love for bullfighting and he hasn't looked back. Aaron has been chosen to work the California Circuit Finals for the past five years and he works many PRCA and PBR events throughout the year. He loves the thrill of freestyle bullfighting and the satisfaction of being a bull rider's lifesaver. Aaron is determined to become one of the best bullfighters in the world of professional bull riding.
Our bullfighters are sponsored by: