2019 Legendary Cowboy is Pudge Merkley.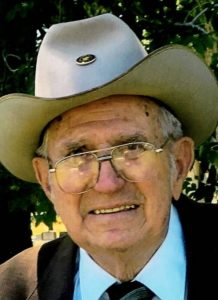 The 2019 Legendary Cowboy for the Dinosaur Roundup Rodeo is Lorin "Pudge" Merkley of Vernal. He has been a life-long resident of the Uintah Basin and can't remember a time in his life when he didn't own a horse, dog or an interest in a cow. At a very young age he was nicknamed "Pudge", a name that has stuck with him for over 85 years. Cattle have always been a part of Pudge's life. He remembers milking cows each morning and night as a young boy. When Pudge was 17, a steer he raised and showed was named Intermountain Junior Livestock Show Grand Champion Steer. He has a lot of great memories and considers it a blessing to have associated with livestock people with family names such as Ainges, Brewers, Jenkins, Pickups, McNeills, Stringhams, Hackings, Hills, Huntings and Coltons. He thinks some of the old cowboys, if they were alive today, would certainly be surprised when a "modern day" cowboy shows up to do the job on a noisy 4-wheeler.
Pudge graduated from Uintah High School and served as student body president. After graduation he was in the National Guard for six years and the ROTC for two years. While in the National Guard, he married his high school sweetheart, Beverly Siddoway. They were married for 63 years and had three children, Wayne, Terel and Lisa. Bev passed away in 2014.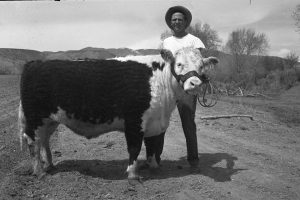 In addition to raising cattle and hay, Pudge owned several businesses in Vernal and was the Uintah County Assessor for eight years. He has always believed in helping and giving back to the community. Pudge was the Dinosaur Roundup Rodeo President in 1962 and served on the rodeo committee for many years. He donated the land for the Maeser Fire Station in honor of his late wife Bev. Maeser residents have greatly benefitted from his generosity since response time for fire suppression has been cut in half.
Three years ago, Pudge married Alice Wilson of Montrose, Colorado and they live in Maeser. He is 89 years old and still raises cattle but leases his ground to others to farm. When you meet Pudge, you have a life-long friend. He is one of the friendliest, most humble individuals you will ever meet and is always willing to help others. It is an honor and privilege to recognize Pudge Merkley as our Legendary Cowboy this year.
The Legendary Cowboy award is sponsored by Uintah County Cattlemen's Association.