Legendary Cowboy is Terry M. Buxton M.D.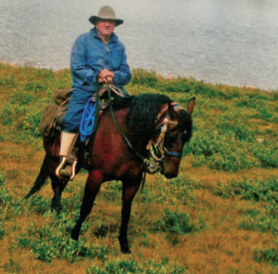 Our Legendary Cowboy this year was born and raised in the beautiful Teton Valley, Driggs, Idaho, delivered by his grandmother, a mid-wife from whom he claims he must have received his medical interest.
After completing high school he attended Ricks College for two years and then answered a call to fulfill a mission for the LDS Church in the New England States in 1953. After returning in 1955 he found his high school sweetheart still waiting for him. They planned to be married in December and then enter a premedical program at the University of Utah In Salt Lake City. His medical education was received at George Washington University in Washington, D.C. His wife worked all the way through Medical school and he received a research scholarship to help finance his last two years of medical school and resulting in the presentation of his research through the OB-GYN Dept. at the American Medical Convention in Chicago in 1962. He returned to the LDS Hospital in Salt Lake City for internship and completing his medical education in 1963.
Terry and Diane moved to Roosevelt in June, 1963. It didn't take Terry long to realize that he fit the Uintah Basin, as a Doctor and as a cowboy, like a "hand in a glove" as people were so friendly and receptive as well as appreciative of any medical assistance they could obtain. The only other physician in town was Dr. R.V. Larson who had to leave his practice due to a medical illness. Dr. Buxton was left alone in Roosevelt for nine months. Realizing that he could not keep up this pace, he, along with help of some of the town people, recruited Dr. Frank Madsen who had followed him in the mission field and also in medical school. He joined Dr. Buxton in 1966. In 1968 Dr. Gary White joined with the two and together they started the Roosevelt Medical Clinic and built a new clinic building adjacent to the new hospital which was being constructed. Thus, the first medical clinic was established in the Uintah Basin. Altogether, six doctors worked together, sharing work responsibility and call, making it possible for continual call at all hours.
It was in a church meeting that Dr. Frank Madsen labeled Dr. Buxton as "Dr. Wildhorse Buckskin" and the nickname stuck. By this time it was well known that he liked to chase and rope wild horses. Another name was given to him, mainly by his work associates, that of "Dr. B" which also stuck.
The real legendary part of "Legendary Cowboy" was that of roping wild horses. He has many a tale relative to that.
Dr. Buxton said he was often honored by the people of the basin and other physicians. In 1988 he received an award for post-graduate education and was awarded a Fellowship in the American Academy of Family Practice. In 1996 the Academy of Family Practice of Utah awarded him recognition as the Family Physician of the Year.
Dr. Buxton and Diane have 4 children, 13 grandchildren and 12 great grandchildren.