2018 Legendary Cowboy is Jude Hacking.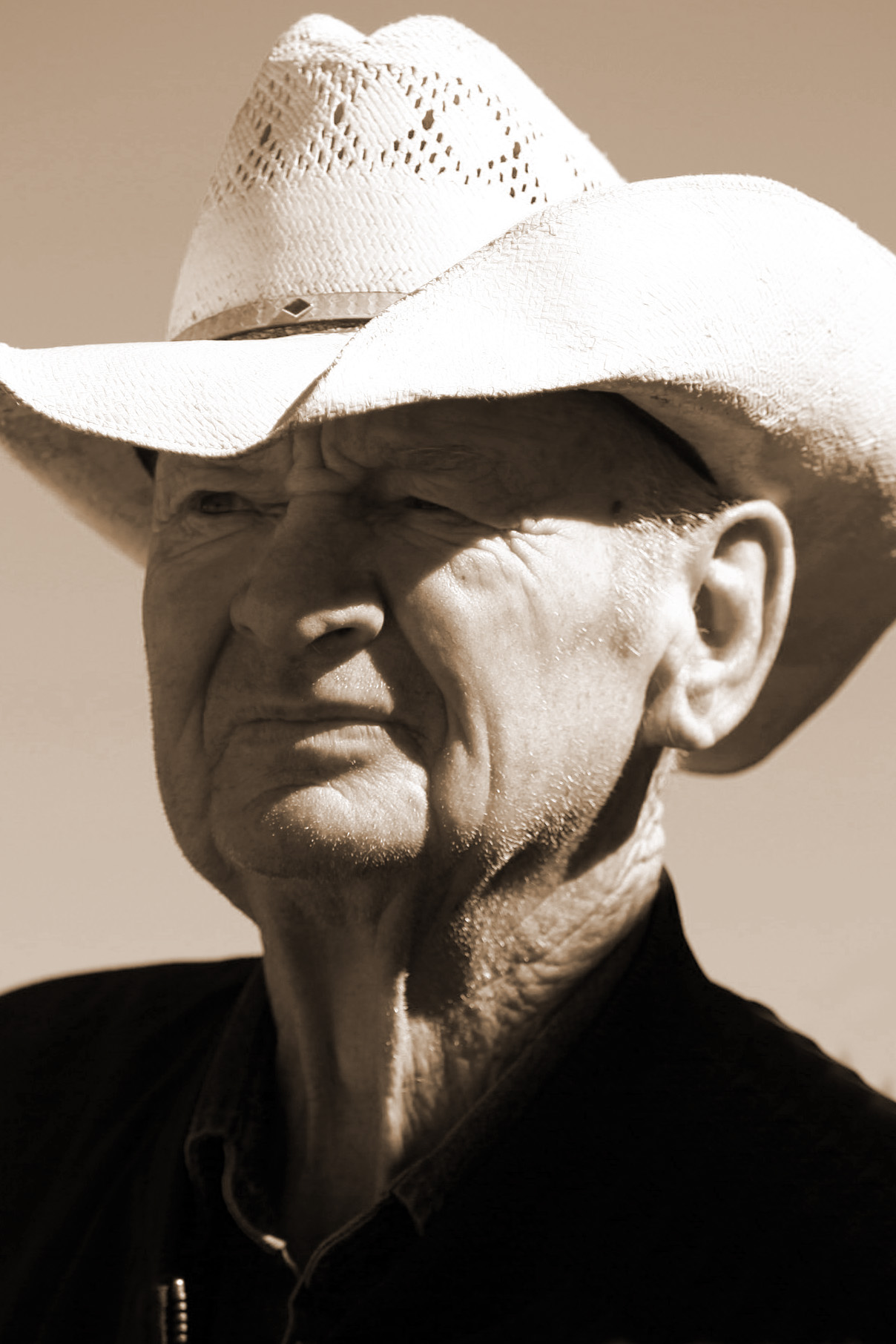 The Legendary Cowboy for the 2018 Dinosaur Roundup Rodeo is R.C. "Jude" Hacking.  Rulon Corlass Hacking was born in Vernal, Utah to Rulon Stringham and Vera Corlass Hacking on August 1, 1930 during the Great Depression and World War 2. He was born into a ranching family that ran some of the biggest herds of sheep in Uintah County.
Jude was on a horse on Diamond Mountain herding sheep with his parents as soon as he was born.  When old enough he along with his sister Carol Jean had to bottle feed the lambs whose mothers had died or abandoned them.  Ofttimes the bum lamb herd exceeded 20 and had to be fed morning and night.  He never shirked this duty.  As he grew more duties were added.  Milking the cow, irrigating the alfalfa fields, garden and orchard, putting up hay, and all the other duties associated with ranching ad farming required of young farm boys as he was the only boy to do them. Jude remembers the family going to Main Street in Vernal the night World War 2 ended.  Main Street was full of people laughing, dancing, singing, and shooting off guns to mark the end of the war.  Everyone was so happy Jude will never forget that day of celebration!
Maeser Elementary, Ashley Valley Junior High, Uintah High School and the School of Hard Knocks was the education path Jude followed.  He earned a Masters Degree in herding sheep from Maeser to the desert by Red Wash to Diamond Mountain up over the Ballies to Lone Tree, Wyoming and then back down again to the valley of Vernal to winter the sheep on permits between the Coal Mine Basin, U Hill, and Lapoint.
Jude was in the sheep business until he married a cattleman's daughter.  Five children were born to that marriage and cattle joined sheep on the Hacking Ranch.  Mitch, Susan Jan, Rod, Shara, and Sonya were all born in the Vernal hospital.  Bum lambs and bum calves along with days herding cows on Diamond Mountain Jude's family's way of life.
To support his young family and expanding ranch Jude went to work in the oilfield.  He worked for McCullough Tool were he went from shop hand to truck driver to salesman to manager.  He owned the original A&W Drive In in Vernal.
Currently Jude owns Target Trucking, an oilfield trucking business.  He, his son Mitch, and his grandson Dace and JD  own and operate Hacking Land and Livestock.  They have a herd of 1000 mother cows as well as operate a feedlot that feeds out over 1000 calves a year.  This operation stretches from Diamond Mountain to Maeser to Ouray.
Jude will be 88 years young August 1, 2018.  He gets up every morning and goes to work.  Sunday's you will find him at the Uintah Care Center wheeling people in and out of church services.  Jude is know for his hardworking attitude.  He had been blessed in this life with 5 children, 10 grandchildren, and 27 great grandchildren with 2 more due before the end of this year.  Jude feels very honored to be chosen as the 2018 Legendary Cowboy for the Dinosaur Roundup Rodeo!  He greatly appreciated the DRR Committee bestowing this honor on him.  He has always loved ranching, Vernal, and going to the Rodeo since the day he was born.
The Legendary Cowboy award is sponsored by Uintah County Cattlemen's Association.