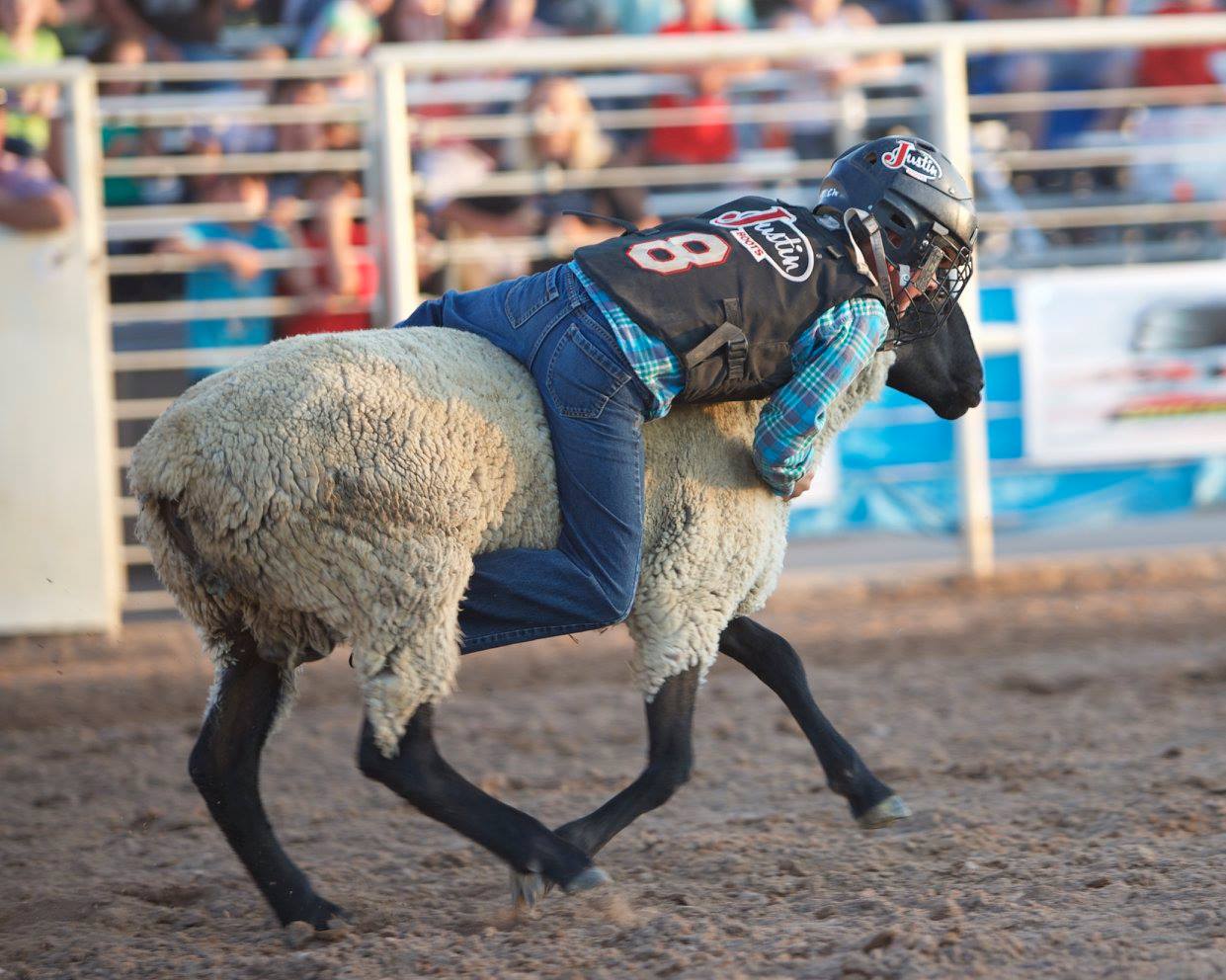 Mutton Bustin' is one of the most popular events at the Dinosaur Roundup Rodeo. Young cowboys and cowgirls that weigh less than 75 pounds and are between the ages of 4 to 7 hang on to the wool of the sheep, and try to stay on as long as possible. The rider can earn up to 100 points, based on how well and how long he or she stays aboard. Each night, the winner receives a trophy, and all riders receive a Justin Boots belt buckle and bandana.
We will have 10 Mutton Bustin' riders each night, which will be selected by random draw from the pool of applicants. 2019 Registration for the Mutton Bustin' will be June 10-28 at the Vernal Area Chamber of Commerce, located at 134 W Main Street in Vernal. The 2019 Mutton Bustin' Application and Waiver is available online, or at the Chamber office. The application must be delivered in person by June 28, 2019 by 5 pm.
The random draw will be completed on Saturday, June 29. This is the list of contestants and alternates: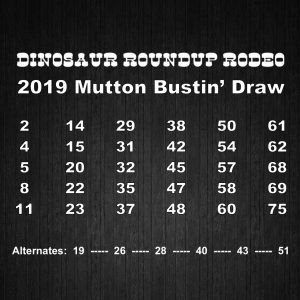 All contestants that are not selected for the Mutton Bustin' are eligible to participate in the sheep chase on Thursday night.
This year's Mutton Bustin' is sponsored by:

2019 Official Mutton Bustin' Rules
Candidates must be ages 4-7, and weigh no more than 75 pounds.
Application and waiver must be turned in to the Vernal Area Chamber of Commerce (134 W Main, Vernal) by 5 pm on Friday, June 28, 2019.
With the completed application, the candidate will be assigned a number. Please write this number down and save for the draw.
Mutton Bustin' spots are limited and filled by random draw:

10 participants and 2 alternates are selected each night.

On the application and waiver form, rank the preference of night.

Once a name is drawn, the candidate will be placed on the participant list for the night of their preference.

The performance lists for each night will be filled, then alternate spaces.
The random draw will be held on Saturday, June 29, 2019. The draw results will be posted on the Dinosaur Roundup Rodeo Facebook Page and www.vernalrodeo.com/muttonbustin/ by 5 pm that day.
If a candidate's number has been drawn, the parent or guardian must CALL (435) 828-1568 to confirm the entry on Sunday, June 30, 2019 between 5 pm to 8 pm. If there is no answer, please call again. All spots that are not confirmed by 8 pm will be forfeited, and re-drawn.
Candidates that were not selected as Mutton Bustin' participants will be eligible for the sheep chase on Thursday, July 11, 2019.
Participants and alternates must check in on the night of their performance between 6 pm to 7 pm at the Western Park arena by the North Ticket Gate. Participants and alternates that do not check in during this time will forfeit their entry, which will be given to an alternate.
Mutton Bustin' participants and alternates will be granted free admission to the rodeo for the night of their performance. Parents, family, and friends will need to purchase tickets to attend the rodeo.