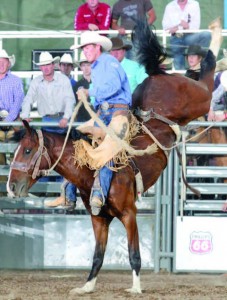 2008 was a great year for the livestock of Powder River Rodeo and their partner company D & H Cattle. The famed 2005, 2007 World Champion Saddle Bronc Miss Congeniality was ridden by Shaun Stroh in Vernal, VT for 90 points and the big win at the Dinosaur Roundup in July. Jesse Kruse teamed up with Wyoming's Miss Congeniality twice in 2008 once for an 88 point win in the semi-finals in Omaha, NE at the River City Roundup Tour Finals in September and for a 91 point win in the semi-finals at the Dallas, TX Championship Tour Rodeo in November.
Wyoming's Miss Congeniality was named the 2008 Reserve World Champion Saddle Bronc in the PRCA after a phenomenal summer. This was a repeat honor for the II-year old mare.
Wyoming's Miss Congeniality and Rod Hay rock and rolled the 10'" round of the NFR putting together a score of89 points and a buckle go round win for both Rod and Hank and Lori Franzen.
Touch of Silver, a gray II-year old gelding was only ridden three times in 2008. Billy Etbaur and Touch of Silver won the final four in Dallas, TX at the Tour Championships giving him the big win in November 08. Touch of Silver was not rode at the National Finals Rodeo for three years 2005-2007 and was on the voting ballot for the same period of time for NFR Saddle Bronc. Touch of Silver at the 2007 Dodge National Circuit Finals was awarded the 2lld place top Saddle Bronc of the Finals along with the past World Champion Saddle Bronc Cool Alley owned by Kesler Rodeo.
Billy Etbaur on Smoke Jumper and Chet Johnson on Pearl Jam tied for 87 points to win Guymon, OK in May 08. The saddle bronc win for Guymon 2009 has been duplicated on Powder River stock with Cody Demoss and Black Sheep for 88 points.
A tremendous young horse, Double Take was another round winner in Dallas, TX 2007 and took Jesse Bail to the semi-final win with 88 points in Caldwell, ID at the Wrangler Tour Rodeo in
August 2008. Jesse was bucked off of Miss Congeniality in the finals round.
Big Show a young mare in the Powder River string added a lot of accomplishments to her name this past summer. Big Show, just a four year old placed in the Bucking Horse futurity in May of 2008 then went on to take a few select cowboys to the pay window. Tilden Hooper was 89 points and the go round winner at the Caldwell, ID tour rodeo. Josi Young was 88 points at Bremerton, WA for another great win and then she was selected to the 2008 NFR.
Top bulls from D&H Cattle and Powder River Rodeo were almost impossible to ride this past year. In Belle Fourche, SD out of 50 riders only 3 bulls were covered in 3 days. Vernal, VT only 10 rides out of 45 with Douglas Duncan scoring 91 points to win the Dinosaur Roundup. Estes Park, CO had 9 rides out of 47 and another Douglas Duncan win with 88 points. Rock Springs, WY 5 rides out of 23 Riverton, WYand Sidney, MT had 21 riders at each rodeo and only covered 3 at each show. Plains, MT had 21 Powder River stock keeps coming back riders and only I bull was rode in two days. Castlerock, CO 3 rides out of24 and finally in Caldwell, ID only 20 bulls were covered in 5 days out of 82 bull rides with a Brian Curtis 91 point ride on Velvet Slinger.
Powder River Rodeo had an impressive list of livestock selected for the 2008 National Finals Rodeo and the cowboys pocketed over $52,000 riding these horses in Las Vegas. NFR Horses: Big Show, Moon Beam, Check Out, Big Chill, Pearl Jam, Touch of Silver, Wyoming's Miss Congeniality.
Powder River Rodeo's partner D & H CallIe NFR bulls: The Geetus, Big Rig, Greg Dog, Holy Moly, Velvet Slipper, Ricky Bobby, Frosty.
This past year Estes Park, CO a rodeo Powder River Rodeo has produced for 17 years won for the 3nl time PRCA Small Rodeo of the Year. Aller 23 years of being in the rodeo business tremendous livestock and rodeo productions have made Powder River Rodeo one of the top rodeo companies in the business!