By Ryan Martinez | July 14, 2019 | Prorodeo.com
VERNAL, Utah – Sometimes being home is all you need to get back on track.
For Rhen Richard, a native of Roosevelt, Utah, it was that and feeling like he finally got the right draw at the Dinosaur Roundup Rodeo to take the top spot in the tie-down roping competition at the ProRodeo Tour stop.

With a Friday-morning run of 9.1 seconds during slack, Richard's time was good for $3,126 in earnings and a few days to enjoy family near his hometown 33 miles southwest of the rodeo before getting back on the road.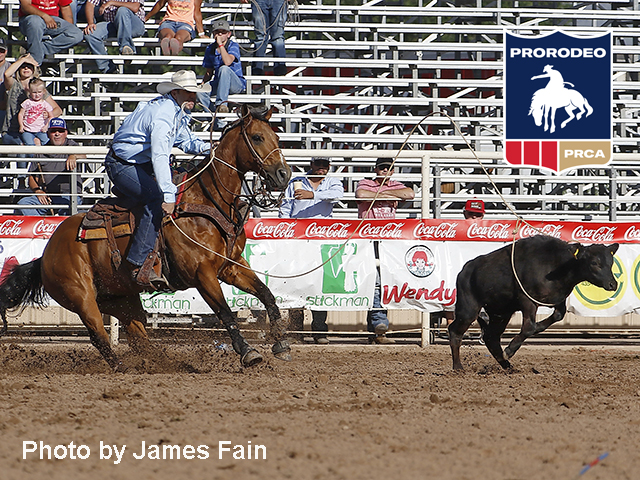 "It's been a rough couple of weeks," said Richard, who entered the weekend sitting sixth in the PRCA | RAM World Standings in all-around and 13th in tie-down roping. "This is hometown for me, and I seem to have pretty good luck at that rodeo.
"It was really good to see all my friends and family, and it's awesome to be able to get a win and move on."
Riding Dundee, Richard got out of the gate quickly and made sure not to break the barrier to draw the 10-second penalty, which has been a source of trouble recently.
"It seems like if you get started off good, you can keep that going, but when you start bad it's hard to get the ball rolling back in the right direction," Richard said. "It's kind of a chain of events here."
Richard, a 2018 Wrangler National Finals Rodeo qualifier, hopes the chain of events can keep going in the right direction to help him qualify for the 2019 Finals in December.
"In the next month, every week is a good week (to make progress)," Richard said. "You try to beat the best guys in the world all the time and sometimes you make that mistake that makes it not happen. When they give me a chance to win, I have to do it."
Richard would also like to see progress in his other event, team-roping, where he is working with new partner Clint Summers.
The new team is still working out the kinks of the partnership with Richard as the header and Summers as the heeler.
"We just haven't gotten a lot of time to practice," Richard said. "I think it takes a little bit to put a run together. I've made mistakes, and he's made them here and there. We put a couple runs together. You want to do a good job for your partner. Hopefully, we can make that happen more."
Richard has a full slate ahead with rodeos in Northern California and Utah in the coming weeks. Other winners of the $121,991 rodeo were all-around cowboy Stetson Wright ($6,849 in saddle bronc riding and bull riding); bareback rider Austin Foss (85.5 points on Powder River Rodeo's Misdemeanor); steer wrestler Nick Guy (4.4 seconds); team ropers Riley Minor/Brady Minor (4.2 seconds); saddle bronc rider Stetson Wright (89 points on Powder River Rodeo's Rich N Fancy); barrel racer Wenda Johnson (17 seconds); bull rider Stetson Wright (87 points on Powder River Rodeo's Catapult).
For more coverage of the Dinosaur Roundup Rodeo, check out the July 26 edition of ProRodeo Sports News.