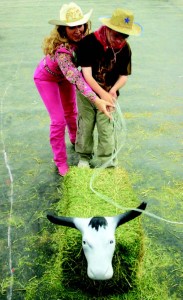 Special Needs Rodeo gives deserving kids fun
Wednesday, July 7th – 4 to 7 PM | Western Park Indoor Arena
During the week of the Dinosaur Roundup Rodeo,  the community comes together to present the Special Needs Rodeo provided for residents of all ages with special needs.
This is a free, special event where children and young adults who might otherwise miss out on all the fun can try their hand at roping, riding, and rodeoing like other rodeo cowboys.
It's a thrill for competitors without the rough and tumble spills designed to build confidence and put a smile on every face. There's calf roping or steer roping where contestants try their hands at tossing a rope over hay bale heads. Participants will also have the opportunity to meet PRCA contestants, rodeo clowns, and Dinosaur Roundup Rodeo Queens to get autographs. Participants will also see and pet farm animals, play games, and win prizes.
A Special Rodeo Queen and King will be chosen to ride in the Grand Entry each nigh of the rodeo.
The Special Needs Rodeo is open to the public and all are welcome to cheer on the participants. This community program would not be possible without the generous donations from: