By Patrick Everson, Special to ProRodeo.com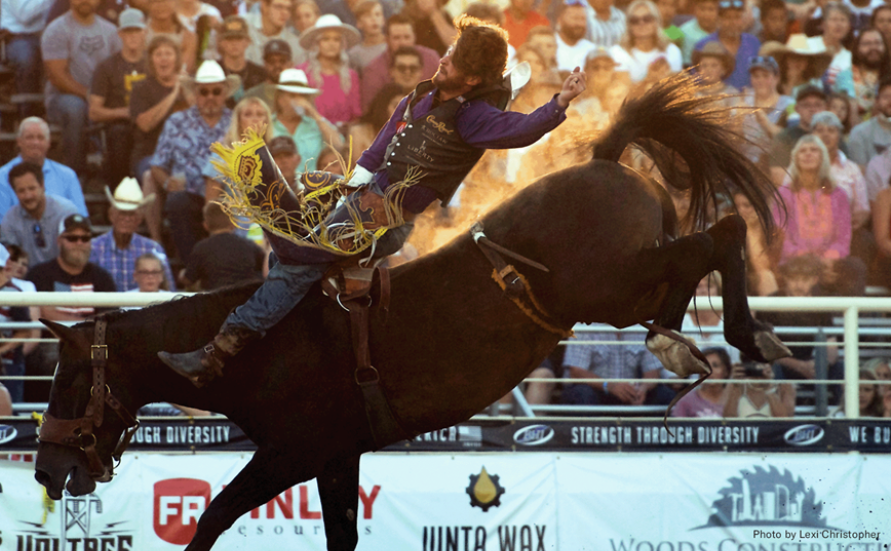 There's nothing quite like getting on a horse for the first time. But rodeo cowboys are nothing if not resourceful, and just seeing such a horse – or even hearing about it – can be a huge help.
That was the case for bareback rider Tilden Hooper at the Dinosaur Roundup, held July 7-9 in Vernal, Utah. (For those curious about the rodeo's namesake, dinosaurs once roamed that area, and the Dinosaur National Monument is nearby.)
Hooper drew Shade Tree, out of Powder River Rodeo. Cole Reiner, one of Hooper's traveling partners along with Kaycee Feild, rode Shade Tree at the 2021 Dinosaur Roundup. And Hooper recently saw Shade Tree at the rodeo in Fallon, Nev.
"I've never been on him. I've just seen him," Hooper said. "That's one of Powder River's more consistent horses. You know what you're gonna get, and you just have to do your job."
Hooper did just that on the final night of the Roundup registering an 86.5-point ride to top a solid group of cowboys and pocket a first-place check of $3,913 at the NFR Playoff Series stop presented by Pendleton Whisky.
"He bails out of the chute and kind of rolls around the post," Hooper said in describing the expected ride, though he noted it was a little bumpier than anticipated early on. "It was kind of a wild start, and then when he scooted out there, he took me right where I wanted him to. I just had to go with every buck from there.
"He's not the hardest horse I've ever been on, but he's no day off either. He bucks well."
That's pretty much what Reiner told Hooper before the winning ride.
"Cole said, 'You'll like it and it'll be fun.' He was pretty dead-on with that," Hooper said. "Still, I was kind of surprised that I won. So many things have to go your way to win first. You're excited to have a horse like that, but you never know how it's gonna go.
"I was fortunate enough to make a solid ride. It's a huge blessing when you ride out in first place."
The earnings in Vernal were enough to move Hooper from 18th to 15th in the PRCA | RAM World Standings, right on the cutoff to qualify for the Wrangler National Finals Rodeo. But Hooper – who has season winnings of $46,338 – hopes his winning ride in Vernal serves as a launching pad to move much higher in the standings. The veteran bareback rider isn't looking to just squeak into his ninth NFR.
"I feel like I've seen and done just about everything. I get confidence from my experience," Hooper said. "I've just got to keep making solid rides and get every point I can out of every horse."
Full Results:
All Around Cowboy: Wyatt Imus, Team Roping and Tie-Down Roping, $1,057.50
Bareback riding: 1. Tilden Hooper, 86.5 points on Powder River Rodeo's Shade Tree, $3,913; 2. Jacek Frost, 83.5, $3,000; 3. Caleb Bennett, 82.5, $2,217; 4. (tie) Trenten Montero and Dean Thompson, 82, $1,174 each; 6. (tie) Kaycee Feild and Lane McGehee, 81, $587 each; 8. (tie) Keenan Hayes, Tim Murphy and Donny Proffit, 80, $130 each.
Steer wrestling: 1. Clayton Hass, 3.6 seconds, $3,885; 2. Caden Camp, 3.8, $3,476; 3. Rowdy Parrott, 4.1, $3,067; 4. (tie) Mason Couch, Bryton Edmundson, Olin Hannum and Tyler Waguespack, 4.2, $2,045 each; 8. Justin Shaffer, 4.3, $1,022; 9. (tie) Cash Robb and Bryn Roy, 4.5, $409 each.
Team roping: 1. Coy Rahlmann/Douglas Rich, 4.2 seconds, $2,961 each; 2. Tanner Tomlinson/Patrick Smith, 4.5, $2,750; 3. Coleman Proctor/Logan Medlin, 4.7, $2,538; 4. Dustin Egusquiza/Travis Graves, 4.8, $2,327; 5. Levi Simpson/Ryan Motes, 4.9, $2,115; 6. Rhett Anderson/Max Kuttler, 5.0, $1,904; 7. Jr. Dees/Levi Lord, 5.2, $1,692; 8. Wyatt Imus/Caleb Anderson, 5.3, $1,481; 9. (tie) Jeff Flenniken/Jake Minor and Chad Masters/Paul Eaves, 5.5, $1,163 each; 11. Dawson Graham/Dillon Graham, 5.6, $635; 12. Howard Hutchings/Scotty Lauaki, 7.6, $423.
Saddle bronc riding: 1. CoBurn Bradshaw, 88.5 points on Powder River Rodeo's Miss Valley, $4,004; 2. Ryder Wright, 87.5, $3,070; 3. Ben Andersen, 87, $2,269; 4. Statler Wright, 86.5, $1,468; 5. Will Pollock, 86, $934; 6. Allen Boore, 85, $667; 7. Brody Wells, 84, $534; 8. (tie) Kade Bruno and Jake Watson, 82.5, $200 each.
Tie-down roping: 1. Shad Mayfield, 7.9 seconds, $5,034; 2. Zack Kirkpatrick, 8.1, $4,442; 3. (tie) Shane Hanchey and AJ Jordan, 8.4, $3,553 each; 5. (tie) Beau Cooper and Marcos Costa, 8.5, $2,517 each; 7. Cory Solomon, 8.7, $2,073; 8. (tie) Tom Crouse, Colton Kofoed and Matt Shiozawa, 8.9, $1,481 each; 11. (tie) Kincade Henry, Trenton Smith and Jase Staudt, 9.0, $494 each.
Breakaway roping: 1. Delaney Kunau, 2.3 seconds, $5,466; 2. Bryana Lehrmann, 2.4, $4,373; 3. Jill Tanner, 2.5, $3,553; 4. (tie) Jackie Crawford, Ari-Anna Flynn and Beau Peterson, 2.6, $2,186 each; 7. Bradi Good, 2.8, $1,367; 8. Zoie Bedke, 2.9, $1,230; 9. (tie) Shelby Boisjoli, Montana Brown and Josie Conner, 3.1, $957 each; 12. (tie) Megan Burbidge and Ashley Goforth, 3.2, $615 each; 14. (tie) Kara Burns, Codi Anne Judkins and Lynn Smith, 3.3, $228 each.
Barrel racing: 1. Jordon Briggs, 17.21 seconds, $5,129; 2. Kailee Murdock, 17.25, $4,103; 3. Meka Farr, 17.34, $3,334; 4. Sadie Wolaver, 17.37, $2,564; 5. Macee McAllister, 17.38, $2,051; 6. Savannah Bennett, 17.42, $1,539; 7. Nicole Driggers, 17.45, $1,282; 8. Jimmie Smith, 17.47, $1,154; 9. Suzanne Brooks, 17.48, $1,026; 10. (tie) Andrea Busby and Terri Wood Gates, 17.58, $833 each; 12. Acey Pinkston, 17.59, $641; 13. Jillette Atkinson, 17.61, $513; 14. Jordan Driver, 17.62, $385; 15. (tie) Lynette Clyde, Maddy Dickens, Kelli Thouvenell and Donna Tippen, 17.65, $64 each.
Bull riding leaders: No qualified rides.
Total payoff: $187,327.20 Stock contractors: Powder River Rodeo and Legend Rodeo Stock. Rodeo secretary: Eva Chadwick. Officials: Clay Kirkham, Paul Cleveland and Wade Woolstenhulme. Timers: Sam Arnold and Tammy Braden. Announcer: Roger Mooney. Specialty acts: John Harrison and Steel Rodeo Tour and Bobby Kerr. Bullfighters: Luke Kraut and Aaron Hargo. Clown/barrelman: John Harrison. Flankmen: Hank Franzen, John Franzen and Darcy Hollingsworth. Chute bosses: Hank Franzen and John Franzen. Pickup men: Clint Humble and Jay Shaw. Music director: Jill Franzen Loden. Photographers: Brooks Benjamin, Lexi Christopher and Michael Pintar.