People looking for a little zany fun and local entertainment during Vernal's Dinosaur Roundup Rodeo need look no further than the Wild West Events! The Wild West Events for 2019 will be Wild Cow Milking on Friday Night, and Wild Horse Racing on Saturday Night!
Sign ups will begin in June, and remain open until full. Each contest will consist of up to 6 teams, with three members on each team. All team members must be 16 years or older, and all team members must wear jeans, long sleeve shirts, and boots. Teams may enter one or both Wild West Events!
Wild Cow Milking – Friday, July 12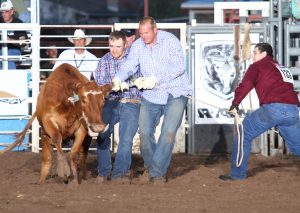 Wild Cow Milking returns to the Greatest Show on Dirt! Up to 6 teams can compete in this wild, hilarious event! This is a timed competition between all the teams to see who can collect milk the fastest from range cows!
Each team consists of 3 members: the anchor, the mugger, and the milker. The wild cows are released from the bucking chutes with a rope attached, and the anchor and the mugger must stop or slow the cow so the milker can collect milk. Once the container has enough milk to be drained from the bottle, the milker will run to show the judge, who will be stationed at one end of the arena. The winning team will be the first team that can produce at least one drop from the bottle when it is turned upside down.
Wild Horse Racing – Saturday, July 13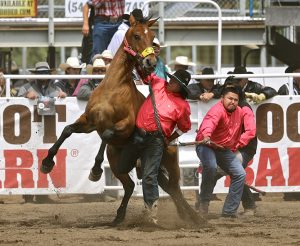 Up to 6 teams can compete in this event! In this event, three-man teams must catch a wild horse, halter it,  saddle it, and then a team member mounts to ride the horse past a barrel at the far end of the arena. Each team has 3 members: the anchor, the mugger, and the rider. Each team must provide their own saddle to use in this event.
The entry fee per team for each contest is $150 ($50 per person). If there are 6 teams in the contest, the winning prize will be $900 for the team.
For more information about the Wild West Events, text or call 435-828-1568.
This year's Wild West Events are sponsored by: